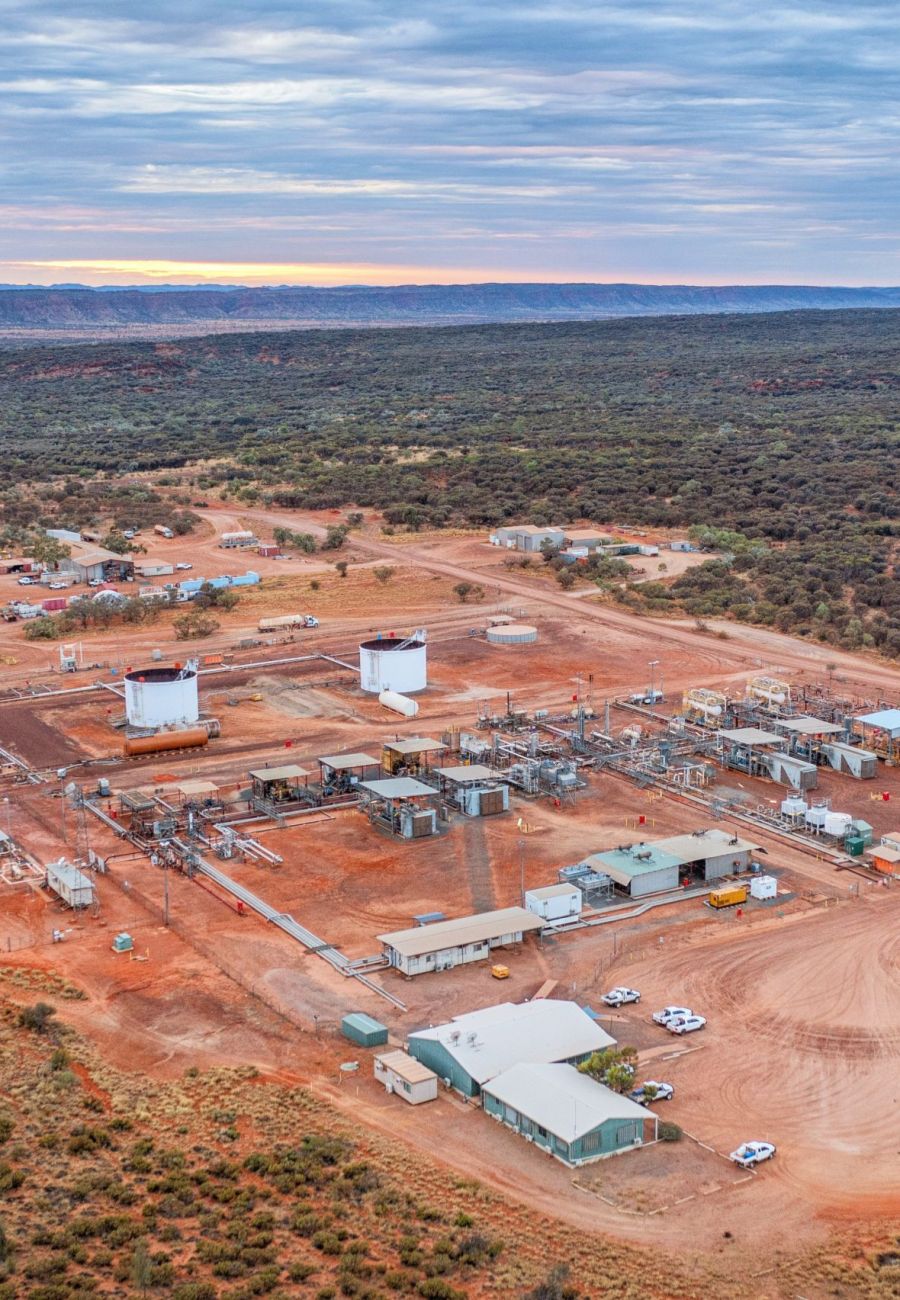 Our focus on growth and value 
Central Petroleum operates the largest onshore gas production fields in the Northern Territory (NT), supplying oil and gas from fields in Central Australia to NT customers and the east coast market. Our key production area is the Amadeus Basin where we produce oil and gas from our Mereenie, Palm Valley and Dingo fields.   
Having increased production from our NT gas fields three-fold since 2017, we are focused on a new multi-faceted growth strategy:  
oil and gas production operations:

 Mereenie, Palm Valley and Dingo fields with 73 PJ of 2P gas reserves and 0.43 mmbbl of 2P oil reserves;

sub-salt exploration targets

: three exploration wells are planned to be drilled in the Amadeus Basin, targeting helium, naturally occurring hydrogen and hydrocarbons;

near / in-field exploration targets:

 exploration targets in the Amadeus Basin targeting oil and gas gas from high-graded, drillable prospects; and

exploration opportunities:

 Over 170,000 km² of tenements in under-explored hydrocarbon-bearing basins with enormous potential, including helium and hydrogen.
Leveraging proven reserves within the Amadeus Basin, NT
Central Petroleum has significant operations within the proven Amadeus Basin, which has some of Australia's largest prospective onshore resources of conventional gas. (EnergyQuest estimate that the Amadeus Basin contains 53 Tcf of gas resources). 
Although the Amadeus Basin has provided reliable, high-quality oil and gas since the 1970s, the basin is relatively under-explored and is believed to hold significant untapped potential for decades of reliable, high-volume gas supply.  
Currently, from multiple wells within our Palm Valley, Dingo and Mereenie fields in the Amadeus Basin, we provide reliable gas supply to power stations, mine sites, energy wholesalers and retailers in central and northern Australia.   
Central Petroleum and its partners are currently investing in further exploration to secure greater supplies of gas for current and future customers.  
The Amadeus Basin is also highly prospective for other valuable gases, such as helium and hydrogen, with a three well exploration program being planned.
Find out more about our assets and activities
Click on interactive image below to see further information on Central's activities.
Prospecting for non-hydrocarbon resources
helium and hydrogen
Prospecting for non-hydrocarbon resources
helium and hydrogen
Some of Central Petroleum's assets within the Amadeus Basin are highly prospective for helium and hydrogen, and we are actively assessing opportunities to commercialise these valuable resources. This is consistent with our long-term strategy to also target non-hydrocarbon resources in the Amadeus Basin.